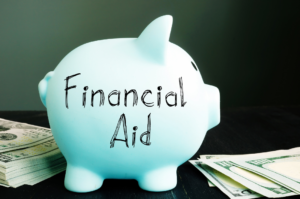 Financial aid can be difficult, there are multiple questions, and sometimes we can't even understand half of them. However, you are not alone in this battle, and for this reason, we have decided to share with you some helpful tips and information about financial aid.
The Free Application for Federal Student Aid (FAFSA) is a free form provided by the U.S Department of Education. Filling out this form allows you to find out how much funding you will be able to get once you enroll in a post-secondary institution. The FAFSA opens each year on October 1st. Some schools have priority dates, which means you have to fill it out before those dates to have access to more aid!
To be prepared ahead of time, be sure to have all the proper documents and information for both you and your parents prior to October 1st. Some of these documents include a valid form of ID, tax records, and business and farm records. For more information about what documents are needed, visit the below link for a helpful checklist:  https://www.icansucceed.org/about-ican/services/personal-advising-sessions/fafsa-completion-appointments/what-to-bring-to-a-fafsa-appointment. 
After filing your FAFSA by providing all the documents, you could receive different types of financial aid. There are several options, like grants, scholarships, work-study, and loans. Scholarships are awarded based on different criteria and don't have to be paid back. They can be talent-based, merit-based, or financial need-based. Work-study allows you to earn money while working on your school campus. You gain experience and have a flexible schedule. Loans are money that you borrow and have to be repaid. They can help you achieve your goals but make sure to understand the terms before you borrow any money. And finally: grants! Grants don't need to be repaid, they are based on financial need, and they are provided to you by your college and the federal or state government.  
The state of Iowa provides a variety of grants that help Iowa students succeed. Some available grants are the Iowa Tuition Grant, Kibbie Grant, All Iowa Opportunity Scholarship, and the Last Dollar Scholarship. The Last Dollar Scholarship provides Iowa residents that are starting college full-time or adult learners starting college at least part-time the opportunity to earn a credential for a high-demand job from eligible programs with the opportunity to have up to full tuition paid for.
If after some of this information, you are still confused regarding FAFSA and you are a high school student, Karey Hawkins from Muscatine High School and Andrea Shultice from West Liberty High School can provide you with helpful information and workshops to help fill out the FAFSA. If you are out of high school or it is summer and you do not have someone to help you, Aligned Impact Muscatine County offers summer post-secondary mentorship with mentors ready to help you fill out this application, enroll in an institution, or find scholarships. Look for our Summer Melt Mentorship program this upcoming summer! Muscatine Community College also offers FAFSA nights and assistance regardless of what college you choose to go to! Stay tuned for their updates. Add in something about MCC helping with FAFSA. 
Ninushka R, a West Liberty High School Student, found out about the Summer Melt Mentorship program after countless attempts to fill out the application by herself. Ninushka, who is on active duty in the army, struggled to understand her financial situation as an independent student causing her to become frustrated and seek help. One of our mentors sat with Ninushka to review the application and help her file. After some time, Ninushka found that she was eligible for a full pell grant, allowing her to go to school without any debt! 
If you need some extra help, Iowa College Aid and ICAN are two organizations that focus on offering post-secondary resources to students, like scholarships, college checklists, and tips!
ICAN: https://www.icansucceed.org/
Iowa College Aid: https://iowacollegeaid.gov/