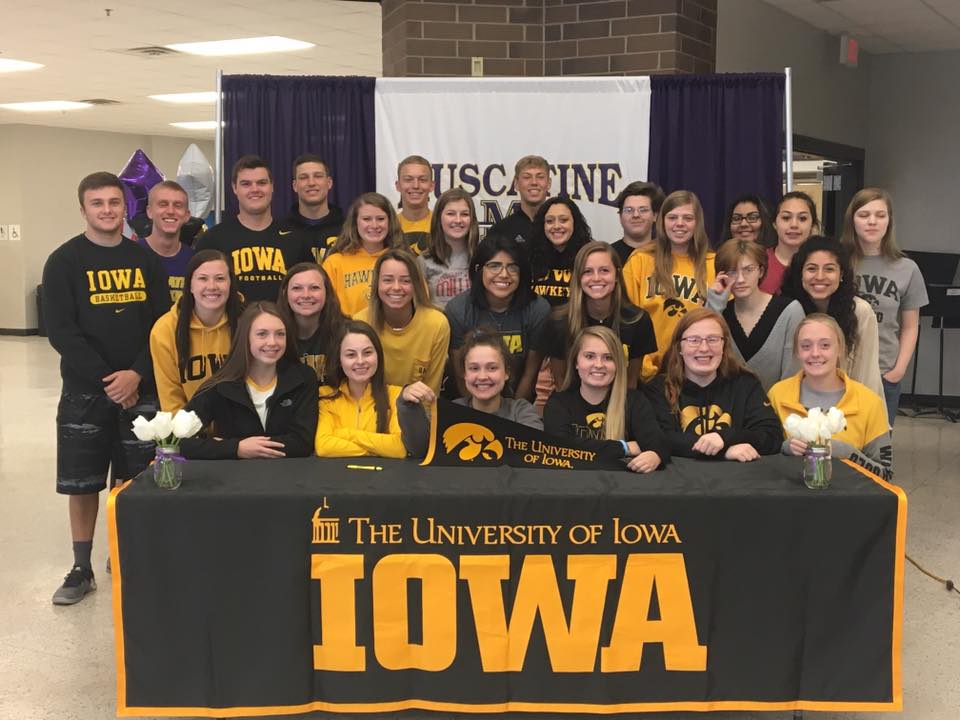 The end of the academic year is quickly approaching, and by this time, many seniors have been accepted to various colleges, universities, and other post-secondary programs and institutions. After weeks of celebrating these acceptance(s), seniors must make their final decision; typically May 1st is the date that most seniors must inform a college of their plans to enroll. Iowa College Decision Day, which is the culmination of Iowa College Aid's 3-Step Process, is held annually on or around May 1. The event is designed to recognize high school seniors for their decisions to continue their education beyond high school and help to create a college-going culture throughout Iowa high schools.
Friday, April 28th marked the first year Muscatine High School participated in Iowa College Decision Day. As part of the new tradition, students were invited to the commons according to the school they plan on attending to "sign" with their school's representatives and make their decisions known. Guest speakers, including Walt Shellabarger, Armed Forces; Ben Nietzel, University Northern Iowa; Lindsey Phillips, University of Iowa; Johnnie Jindrich, Iowa State University; Dr. Patrick Walsh, Non-Regent Universities; and Shane Orr, Muscatine Community College were invited to represent their alma maters and to address the students regarding their college and career paths.
About 140 students signed up to participate in the event and more than 130 seniors were recognized for their academic achievements and post-secondary plans at Muskie Decision Day. All students that participated in the day received a certificate and a personalized cupcake. The students were also encouraged to sign the "College Decision Day 2017" banner, which is now hanging outside of the Student Services office.
Muskie Decision Day 2017 was a fun way to wrap up the stressful college process, and will hopefully continue to encourage younger students to think about and prepare for success in their "college, career, and civic life".